Catalina Island Vacation Overview
Catalina Island is part of the Channel Islands, located just off the coast of California. The rugged and beautiful rocky island is 22 miles long and eight miles across at its widest point, located approximately 22 miles southwest of Los Angeles. Much of the Island is owned by the Catalina Island Conservancy, which works to protect native species, as well as wild Bison which were brought there is the early 1900's. For this reason, the island remains largely undeveloped and pristeen. Just a short ferry ride away, Santa Catalina Island makes the perfect Island getaway for weekend vacations, honeymoons, weddings and day trips.
Most of Catalina Islands native population (about 4000 inhabitants) live in its port city of Avalon, with a few hundred more living in the small town of Two Harbors just a little further north. Local residents are friendly and have adapted to life on a small island. All supplies must be shipped by boat or flown in by helicopter and as a result, living expenses are relatively high as compared to the mainland. There are very few cars and just a few 4x4 off-road vehicles on the island; residents prefer to use modified golf carts, ATV's or bicycles to do shopping and run errands, which adds to the unique flavor of the island.
Catalina Island Vacation Activities & Attractions
Visitors to the island can rent golf carts to explore the town, however, renting bicycles is a great way to tour the cliffside neighborhoods and discover quaint sidestreets, boutique shops, and embrace the slow easy pace of life on Catalina Island. Other great activities include guided bus tours to see the Bison, saltwater spot fishing, horseback riding through mountain trails, teeing off at the original Southern California golf course, visiting the botanical gardens, scuba diving and snorkeling, visiting the famous Catalina Casino for events and first run movies in the beautifully restored Art Deco Casino theatre, and a short hike to the historic Wrigley Estate.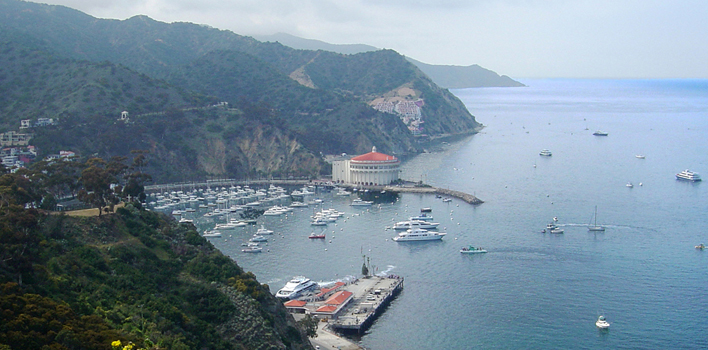 There is a wide variety of Catalina Island hotels for all budgets, as well as great international cuisine, nightlife, scuba diving, Catalina Island fishing, snorkeling, Island sailing in the many secluded coves and bays, gambling, cruises and eco-tourism activities. Whether you plan to stay just a day, spend a long weekend, or book a longer stay in a fine Catalina Island rental, your days will be filled with exciting activities and relaxing walks along the beach.
Santa Catalina Island is truly a world away from the rest of California and provides a perfectly accessible getaway that will satisfy your vacation wanderlust. Romantic getaways, day trips, and family vacations are what this island is all about. Upon arrival you quickly find out that the amenities, activities, and accommodations in the port city of Avalon and Two Harbors are all in place, waiting for you. The Catalina Chamber of Commerce is also a great resource. Keep reading and discover some of the secrets of Catalina Island most people miss...