Catalina Island Camping
While it is officially known as Santa Catalina Island, most call it Catalina Island or even Catalina, and it sits just off the coast of California. Most would find it to be relatively unremarkable as it is only 22 miles across, but there are those who find it to be acceptable as a vacation spot, and there are a few cities available on the island for residency. The islands one incorporated city is Avalon with a population of 3,127, and the village of Two Harbors supports a population of 298. With so few cities, it's no wonder that camping is such a popular activity on the Catalina Island, and there are plenty of different opportunities.
If you have children that wish to head off to summer camp, then you will more than likely be happy to find out that The Catalina Island Camps at Howlands Landing features an independent camp for boys and girls in grades 3-10 for 1-4 week sessions. This provides you a method of sending them to camp, or even getting them out of your hair as you are on a vacation alone or with your significant other. It's a win-win situation all around!
As for adult and other forms of camping, the island is protected by a non-profit organization known as the Catalina Island Conservancy, and they do their best to protect 88% of Catalina Island outside of Avalon. There are plenty of different camping opportunities, and if you get tired of being stationary then you could always explore one of the many trails or perhaps even take a bike ride.
Catalina Island Campsites - Boat or Kayak into Private Beaches
In addition to exploration there are a number of different fishing opportunities and even boating if you so desire. Obviously there is enough water surrounding the island to accommodate everyone, so this should not be an issue. If you're looking for a true outdoor experience then you might want to look at one of the many boat-in primitive beach camp sites There are 14 beaches accessibly by private boat or kayak and they feature absolutely no facilities or boat moorings. This is a natural experience that many people long to try, and by making reservations, you can definitely have the experience of a lifetime.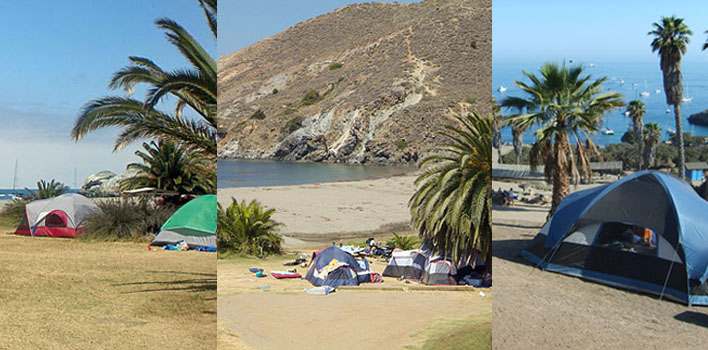 As you can see there are more than a few camping experiences to be had on Catalina Island, and they are quite plentiful considering the size of the island. Make sure you book your trip today or at least speak with your travel agent. To be perfectly honest, Catalina Island is one vacation you'll want to take at least once in your lifetime, and you might just find that it's the trip you've been waiting for your entire life!