Valentine's Day on Catalina Island
The Island of Romance is just an hour away… Take your sweetheart, boyfriend or wife over to the Island and dance the night away. Catalina Island vacation packages are offered by many of the tour companies, who will bundle your Catalina ferry ticket, two night Catalina Hotel stay, and include dinner and tickets to the famous Catalina Island Valentine's Sweetheart Dance at the Casino Ballroom.
Renew your vows or get married! Valentine's Day on Catalina Island is the perfect time and place to tie the knot or reaffirm your love. Catalina Island weddings are affordable, and at the same time unique and romantic. Getting married on Catalina Island is so easy, and while it will feel like an away wedding, your friends and family can easily make the short trip, so your guest list doesn't have to get cut in half. Valentine's Day gets booked up quickly though, so you want to be sure to book way in advance, especially if you have a specific time in mind that you'd like to have your ceremony and take photos. Make sure to ask when the light is the best and keep in mind that the lighting conditions aren't the same on the island as they are on the mainland, so ask!
Pavilion Lodge Valentine's Day Package
Surprise your lover with a Valetine's weekend package getaway on Catalina Island. Get two round trip Catalina Express ferry tickets, A two night stay at the romatic Pavilion Lodge, candlelight dinner for two at the intimate Catalina Country Club (menu includes a shared appetizer, soup or salad, choice of entrée, shared dessert),, and get two tickets to the Valentine's Day Sweetheart Dance at the historic Casino Ballroom. The dance features live music, a beautifully restored Art Deco Bar (full service), and married couples can renew their vows while overlooking Avalon Bay on the upper balcony of the Casino. Get pampered and everything taken care of this Valentine's Day on romantic Catalina Island. Price is $295 per person.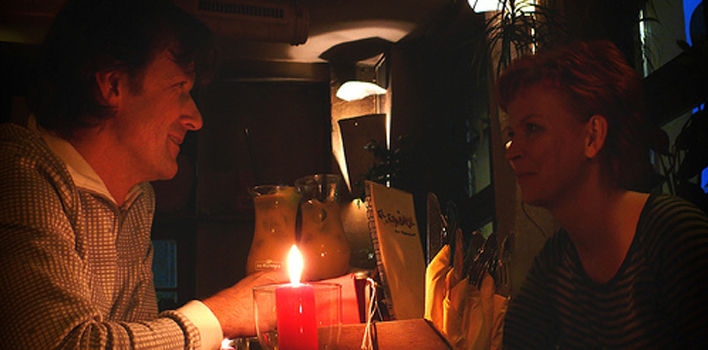 Hotel Catalina Valentine's Day Package
The lovely Hotel Catalina is a romantic place to spend your special night. The building is a beautifully maintained blue and white Victorian structure just half a block from the beach, close to all the shops and restaurants. They offer Special Valentine Dinner Packages starting at $131.50 per person (based on double occupancy). Book your Hotel Catalina romance package Friday through Sunday, February 9, 10, 11 and on Valentine's Day, February 14th.
The Hotel Catalina features offers wireless internet, cable TV, VCRs, refrigerators and large verandas with harbor views and a garden courtyard featuring a Jacuzzi. Complimentary fresh ground Kona coffee and fresh baked goods each morning are a treat here!
Hotel Catalina's romantic Dinner Packages includes a one-night accommodation, roundtrip ferry service aboard the Catalina Express, taxi from the boat dock to the hotel, choice of either a Glass Bottom Boat or Avalon Scenic Tour, and a choice of dinner options. Pick from three of Avalon's most famous restaurants - El Galleon Restaurant, Mi Casita Mexican Restaurant or Antonio's Cabaret. Each restaurant offers a special Valentine's Day menu - Lobster Prime Rib dinner for two at El Galleon, authentic Mexican dinner for two at Mi Casita, or an Italian Pasta Feast at Antonio's Cabaret. Any of the three is a safe bet, although my pick would be Antonio's Cabaret. Whichever you choose, a romantic dinner with your love on the Island is a sure-fire winner.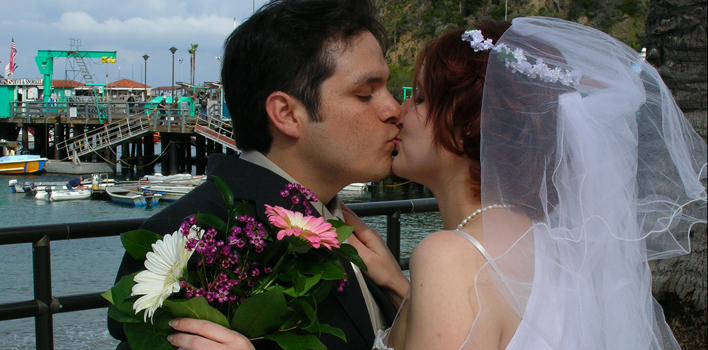 Catalina Island Weddings - Valentines Day!
Want to get married or renew your vows? Catalina Beach House Hotel in Avalon, Catalina Island offers a cute little ceremony in their lush courtyard at 3pm on Valentine's Day. They provide live music and champagne, while an Officiant walks you through your "I do's." Marriage licenses can either be provided on the spot for $150, or you can bring your own to be signed by the Officiant for $25.
Catalina Beach House Hotel offers lodging/boat package from $375/couple + tax which includes round trip Catalina Express ferry tickets boat for 2 from Long Beach or Dana Point. Two night lodging in Avalon (Fri/Sat or Sat/Sun).
Cancellations are non-refundable so make sure you have planned accordingly. Cancellations due to weather are subject to a 60-day hotel credit.