Catalina Island Golf Course
The Catalina Golf course is a narrow, meandering course that winds through the canyon above Avalon. The sheer beauty of this offshore southern california golf course location, with view planes across to San Pedro and Palos Verdes makes for a truly unique golfing experience. Deer and hawks are frequent visitors to the area, enhancing the natural beauty of the Catalina Island Golf Course.
Currently 2,100 yards in length, featuring five Par 4 holes, and four Par 3 holes, the course offers two sets of tees, which makes 18 hole play possible here once again. Small greens and deep bunkers make the course a challenge for golfers of all skill levels. There is a practice putting green as well as a driving net here, as well as a fully stocked golf pro shop (which would be at home in any california golf club), rental house which carries Taylormade rental clubs, electric golf carts and pull carts. Green fees range from $35–85, which is extremely reasonable in comparison with standard fees at most southern California golf courses today. A PGA certified pro is available at the course as well.
All golfers will appreciate the Catalina golf course's demand for pinpoint accuracy, which necessitates careful choice of clubs and consciousness of current conditions. Particularly challenging is the par-three, 194-yard 7th hole, which requires skill and accuracy on both drives and approach shots. The most memorable hole, however, is without a doubt the 8th, where an elevated tee provides a panoramic view down to the harbor and, when the weather permits, breathtaking views all the way across to Long Beach and Palos Verdes.
Nestled the valley above the town of Avalon, golfers have been teeing off for over 120 years. The Catalina golf course, originally built by the Banning Brothers in 1892 was originally design as a three hole course, the first in Southern California. In the early 1900's the Catalina Island Golf Course was expanded to 9 holes, which was later expanded to an 18 hole tournament style course in 1929. As a result of World War Two however, the course was not properly cared for (if only that were the worst tragedy), and eventually was returned to just 9 holes in 1945.
Since its inception in 1967, the Avalon Men's Golf Club has sponsored the Catalina Island Junior Golf Tournament. One of the most notable Junior golfers who played in this offbeat southern california junior golf tournament and went on to greater fame is Tiger Woods, who first played here as a toddler at age 4 and then again at age 14. Craig Stadler and Corey Pavin also played the famous course as young men, adding to its rich history.
Catalina Island Golf Green Fees
Midweek (Mon–Thurs) Weekends (Fri–Sun)
9-Hole midweek $35 weekends $39
18-Hole midweek $49 weekends $56
Senior 9-Hole midweek $32 weekends $36
Senior 18-Hole midweek $47 weekends $54
Catalina Island Golf Packages
The fees below include green fees, pull cart, balls, and full set of rental clubs. (Upgrade to electric golf art available)
Midweek (Mon–Thurs) Weekends (Fri–Sun)
9-Hole midweek $59 weekends $65
18-Hole midweek $74 weekends $85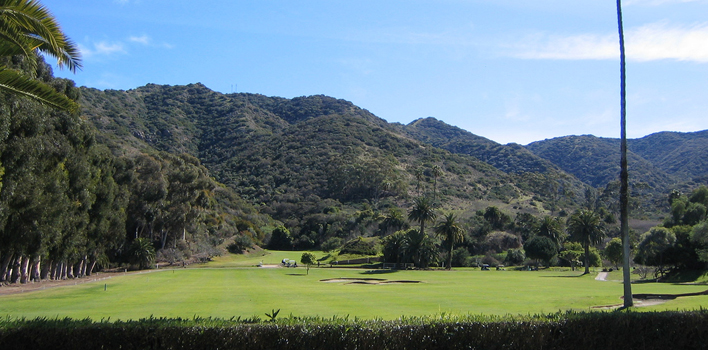 Catalina Island Golf Vacation Package
Start planning your Catalina Island golf vacation package now! Your island golf package includes round trip fare on the Catalina Express, beautiful accommodations at the Pavilion Lodge or Hotel Atwater, and 9-holes of golf at the historic Catalina Island Golf Course. Choose your accommodations at the famous Pavilion Lodge, just a few steps from the beach, or the historic Hotel Atwater located right in the heart of Avalon. Catalina Island is still home to one of the most enjoyable golf courses in southern California.
Your trip begins with a high-speed ferry ride aboard the Catalina Express over to the island, with many departure ports and convenient times to choose from. Spend the day at the Catalina Island Golf Course, driving through the unique 9-hole, 2,100 yard layout. Catalina Island golf cart rentals are available, but the course is also easy to walk. Expect to play through the Catalina's unique Southern California golf course in about 2 hours.