Catalina Island Hotels
Here is a brief overview of some of Catalina Island's best hotels: Glenmore Plaza Hotel, Seaport Village Inn, Hotel Metropole, Catalina Island Inn, Hotel Catalina, Hotel St. Lauren, El Terado Terrace, Hotel Vista Del Mar, Snug Harbor Inn, Catalina Canyon Resort & Spa, Zane Grey pueblo Hotel.
Glenmore Plaza Hotel
Amid the breathtaking beauty that is Catalina, this historic hotel offers victorian charm with modern amenities and personal service while preserving the romantic ambiance of a bygone era.
Catalina Island Inn
Situated in the heart of Avalon, steps away from restaurants, shops, tours and the beach. Of all the Catalina Island hotels ours was chosen to host the official Catalina Island web cam due to our spectacular view of Avalon Bay. Very few Catalina hotels have a harbor view like the Catalina Island Inn.
Hotel Catalina
Decorated in the Victorian style, Hotel Catalina combines old world elegance with today's modern conveniences. Nestled beside the hotel is a large courtyard patio with lounge chairs, jacuzzi spa and fountain; barbecue area, tables and chairs. Strolling along the balustrade balconies, from sunrise to sunset, you'll enjoy the refreshing sea air and splendid panorama views of the picturesque harbor. Located just one half block from the beach, the Hotel Catalina is a quiet, serene and romatic getaway year round.
Hotel St. Lauren
One of Catalina Islands' finest romantic hotels. The hotel features 42 luxurious guest rooms overlooking Avalon Bay, CA. Some accommodations include a private balcony or a Jacuzzi tub and all rooms are decorated in Victorian style elegance with rosewood furniture. The hotel serves complimentary coffee, juice and croissants each morning. This Catalina Island hotel is close to swimming, snorkeling, scuba diving, parasailing, fishing and kayaking. Rent your own boat and explore Avalon bay or rent a rod and reel for ocean fishing right off the Green Pier. Our Avalon vacation packages feature lodging combined with boating, helicopter rides, or tours of Santa Catalina Island. Our specials page offers some great value discounts.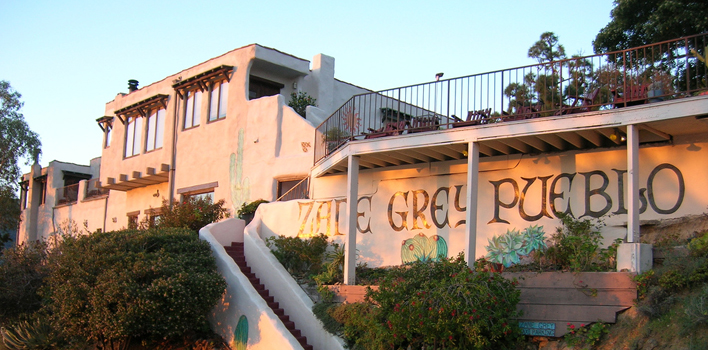 Zane Grey Pueblo Hotel
Perched on a cactus covered hillside overlooking the world-famous Casino building, the Zane Grey Pueblo Hotel in Catalina Island offers some of the most spectacular views of Avalon Bay, the town of Avalon, and the surrounding mountains. The sprawling Hopi Indian-style pueblo is the former home of American novelist Zane Grey (1872-1939), who wrote more than 100 books in his lifetime. While the author is best known for his Westerns, he also wrote baseball stories and was an avid fisherman, and wrote many books on the subject of sport fishing. The Pueblo Catalina Island Hotel offers ocean view and mountain view rooms as well as sunning decks and balconies where guests can take in all the views. The Pueblo Hotel also features an arrowhead shaped fresh water swimming pool surrounded by graceful gardens.
Hotel Vista Del Mar
Hotel Vista Del Mar is located just ten steps from the beach overlooking Avalon Bay.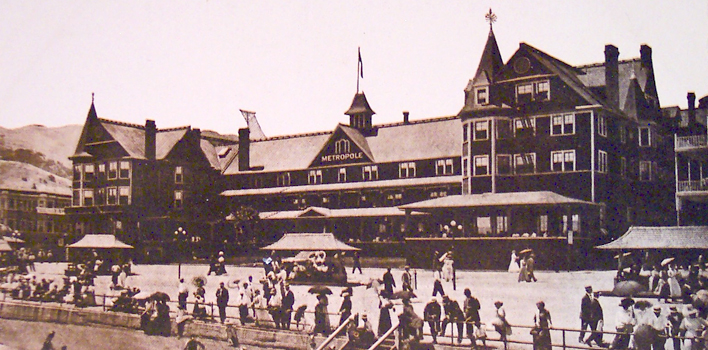 Hotel Metropole
Located right in the heart of Avalon, just steps from the beach, Hotel Metropole Catalina Island is a perfect spot for romantic interludes and family getaways. Generally thought of as Catalina's finest hotel, Hotel Metropole has a reputation for comfort, charm and friendly, efficient service. Rich in history, Hotel Metropole is one of the most reputable Catalina Island Resorts.
Snug Harbor Inn
A Cape Cod theme with different decor and color in each room. Although each room is unique, they all include a king size bed with goose down comforter and pillows, 200 thread count Egyptian cotton sheets, wood floors, custom made area rugs, fireplace, color cable TV with DVD/VCR, stereo with CD player, air conditioning, in-room phone with voice mail, fax and modem lines, and personal safe in each room. The bathrooms include either a skylight or window, granite counter top, white hexagonal tile with green granite trim, deep jacuzzi tub complete with big old fashion sunflower white porcelain and chrome shower head. Enjoy a special vacation in one of our family rooms that accommodate up to five people. Our Catalina Island Inn is large enough to host family reunions & weddings but intimate enough for a romantic getaway. Imagine yourself in one of our King bedded rooms with private balcony over looking the moonlit Avalon bay. Enjoy the fabulous view, great times and memories you will share forever.
Seaport Village Inn
Located in the center of Avalon, this fine hotel is only a few steps from the beach, harbor boardwalk and all its restaurants, boutiques and galleries.
Catalina Canyon Resort & Spa
Nestled in the peaceful embrace of the foothills of romantic Catalina Island overlooking the town of Avalon, where the gentle early morning mist curls over the hilltops and sunsets turn the ocean pink. The Catalina Canyon Resort operates one of the few Day Spas on Catalina Island and the hotel's services and amenities are designed to ensure maximum comfort and convenience during your stay. Enjoy California Cuisine or your favorite beverage in the Canyon Bar & Grill or take a dip in the hotel's heated outdoor pool. Free shuttle service is offered to and from the downtown plaza, boat and helicopter terminals. An endless number of activities, such as shopping, boating, scuba, snorkeling, ocean rafting, parasailing, horseback riding, tennis, and golf are close by. As one of the finest Catalina Island resorts, the Catalina Canyon Resort & Spa features two conference rooms, as well as flexible outdoor venues, which are perfect for weddings, retreats, reunions, business meetings and more. In addition, this breathtaking Catalina Island hotel offers splendid views, lush gardens and a warm tropical ambience adding an utterly unique element to any gathering. The Catalina Canyon Resort & Spa's lush garden courtyard, private balconies, patios and inviting architectural style evoke thoughts of an exclusive Mediterranean resort. Most of our rooms have been recently renovated, making us the premier resort, hotel choice on Catalina Island. Our relaxed atmosphere is ideal for a romantic escape, family vacation or weekend business retreat.
If you're on a bit of a tighter budget you can still find decent accommodations on Catalina Island, especially in the off-season. Even at peak times, just book in advance and check out one of the many cheap hotels on Catalina Island.
And, if you want to live it up a little, check our page on Catalina island resorts and catalina spa resorts.