Catalina Casino Theatre and Ballroom
The Catalina Island Casino has been a cultural landmark ever since it opened in 1929. The beautiful 12-story circular building brings the harbor of Avalon to life, and dominates the landscape as you approach the Island. A meeting place shrouded in rich history, the Catalina Casino exemplifies the romance of the island, and pays homage to a rich past filled with silent films, big band music, and Art Deco style at its best. The building has been painstakingly restored to its original condition and is available for tours, weddings, and screenings.
The Catalina Casino Ballroom is truly a lavish, decadent and romantic setting. Rose hued walls rise to meet an arching 50 foot high ceiling. Tiffany chandeliers illuminate the space, which consists of an elevated stage, raised seating surrounding a beautiful dance floor, and in the back you will find a fully restored full service vintage bar.
Perfect for Catalina Island Weddings - the Catalina Casino Ballroom is large enough to hold the ceremony and the reception, and features bride's quarters, excellent catering menus, and spectacular views of Avalon harbor. Services include Catering and kitchen facilities, tables, chairs, linens, silver, a large dance floor, and a 1400 person capacity. Contact sales staff at 310-510-7497.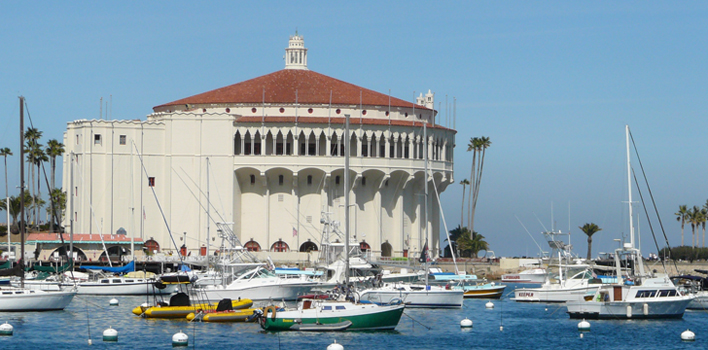 The Catalina Casino Movie Theatre is also a masterpiece of Art Deco design, and has been fully restored. First-run movies play every night, and the original 1929 pipe organ still resides here.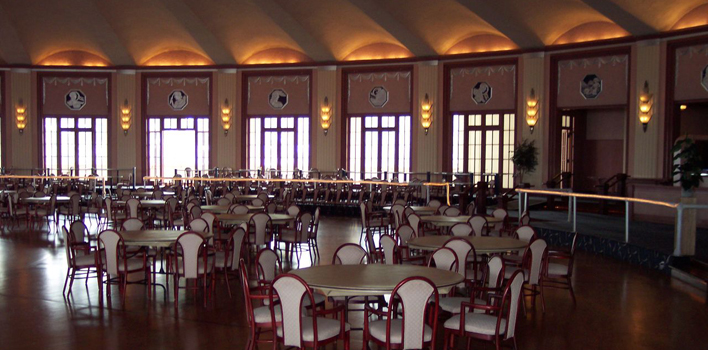 The Catalina Casino plays host to most of Catalina Island's major indoor events. Visitors to the island can join the festivities during the annual New Year's Eve Celebration and the famous Catalina Island Jazz Festival.
Tours of the Catalina Casino are available daily and cost about $16 for adults.