Catalina Island Cruises
Catalina Cruises can be booked as day trip from the nearby ports of long Beach, San Pedro, Dana Point, or Marina Del Rey. There are a few main companies that offer cruises and ferry service, but many of the major cruise lines also make a stop at Catalina Island as well. The larger Cruise ships cannot enter the harbour and anchor just offshore and ferry passengers right to the Green Pleasure Pier (big green pier in the middle of Avalon harbour) in Avalon.
Catalina Island Cruise Adventures Catalina makes a great destination as a day cruise, or as a stop along your route on a larger cruise ship. The Island has a distinclty Mediterranean look and feel, and the town of Avalon can be covered well enough in a day. On top of that, you won't run out of fun things to do like:
Diving Catalina is a great way to spend a day - there are about 10 full service dive shops in Avalon and the Catalina water are perfect for beginners and experts alike. Snorkeling in Lovers Cove (a short walk from the Pier) is also an easy, fun activity to fill an hour or two.
Cycling Catalina Island is another easy activity. I have a great time cruising the streets on a beach cruiser, biking up to the Botanical Gardens and Wrigley Estate, then a fun ride back down the mountain to the beach and into to twon for a great meal.
Catalina Guided Tours come in every flavor. You can combine activities, or do things one at a time. If you arent a diver or into snorkeling, then i suggest you ate least do the undersea submersible tour. The water is remarkably clear and you are guaranteed to see colorful fish and maybe even a few surprises like sharks and octopus... Also check out inland tours to see the Bison, kayak tours to Seal Rock and Casino Tours to the historic 1929 Catalina Casino, which has been fully restored to its original Art Deco magnificance.
Catalina Island Golf Course was built in 1892 by the Banning brothers and claims the title as being the first in Southern California. Tiger Woods played there as a youngster, as well as Craig Stadler and Amy Alcott. Green fees are $27 for 9 holes and $48 for 18 holes. The course is a short ride above the town nestled in a lush valley on the way to the Botanical Gardens.
Catalina Restaurants are varied enough for everyone... The restaurant at Villa Portofino is really good for a nice dinner and you can find anything from dessert shops to Mexican cuisine along the beachfront walk.
Booking a Catalina Island Cruise
Catalina Classic Cruises depart from Long Beach. Contact Catalina Classic Cruises 800-641-1004.
Catalina Express departs from Long Beach, San Pedro, and Dana Point. Contact Catalina Express 800-481-3470.
The Catalina Flyer departing from Newport Beach to Catalina Island. Call Catalina Express 949-673-5245.
The Catalina Explorer departures from Long Beach. Call 877-432-6276 for reservations and more information.
Catalina Ferries depart form Marina del Rey. Call 310-305-7250 for more information and reservations.
Check our Catalina Island Ferries page for more specific info on schedules, departure locations and pricing.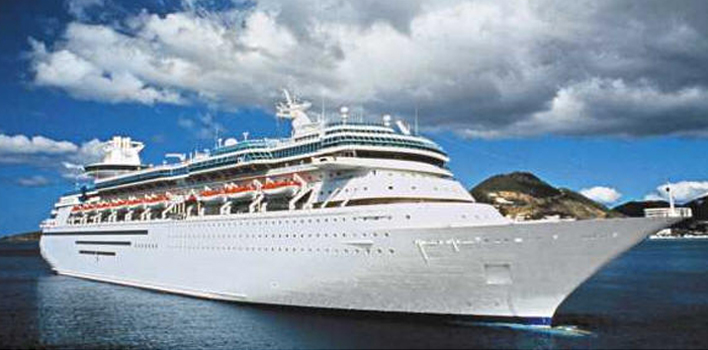 Cruise Ship Port of Call - Catalina Island
Many of the major cruise lines stop for a day at Catalina Island. Carnival Cruises, P&O Cruises, Costa Cruises, Celebrity Cruises, Royal Caribbean, Princess Cruises and many more. Check your itinerary and see if you are scheduled for a Catalina Island Visit. As I said before, the larger cruise ships moor offshore and ferry passenger into the center of town for the day. Catalina has a lot to offer and is a great stop on your route.