Catalina Sailing and Catalina Sailboat Adventures
There are two popular sailing destination ports on Catalina Island, Avalon Bay, with a population of 3000, and Two Harbors, much smaller with just three hundred or so. Avalon is the main center on the Catalina Island with restaurants, bars, hotels, and the famous Catalina Casino (built by William Wrigley Jr., the chewing gum magnate) at the mouth of the harbor. Avalon is much quieter, with just a rural outpost bar, restaurant and a single general store.
Sailing to Catalina Island.
There are numerous coves and bays around Catalina Island which are perfect to set anchor and camp for the night, many of these also offer moorings. Catalina Island Camping offers all the information you will need about safe anchorage, mooring, safety, camping and prices.
To make the trip to Catalina Island from nearby ports on the southern California mailand, you should have at least a 25' boat. Boats under 20' aren't recommended, as the seas can get rough in the deep channel during the trip over. Bigger boats, like will have a much more comfortable ride in rougher seas.
If you plan to sail over for the weekend, plan for a Friday morning departure. Winds are generally light in the morning along the southern California coast, so expect to motor the first few hours until winds pick up in the afternoon. You want to get there as early as possible in order to ensure better odds of getting a mooring upon your arrival. If you can't get a mooring, make sure you have an achor (or two) and a crewmember that can handle dropping and raising while you pilot.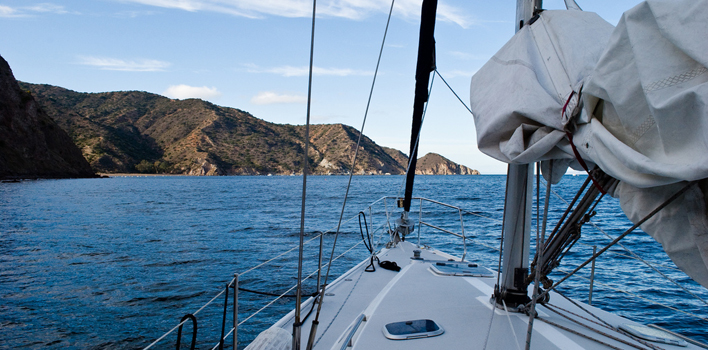 Preparing for your Catalina sailboat trip
Make sure you are prepared. Even though the trip is relatively short, the channel you must cross to get to Catalina Island is over 3000 ft deep in places. Be sure to check weather conditions before you leave as the ocean can get very rough during big swells and storms, making your trip either unpleasant or even dangerous in smaller boats.
You should always have a proper marine chart showing water depths and compass bearings, a motor to get you through periods of no wind that is maintained and working, a marine radio and navigation lights, bilge pump, and compass. Some Catalina Sailboat enthusiasts will also have radar and or on board GPS (recommended). Coast Guard regulations require each member of your party to have a PDF. Safety conscious boaters will have carry a flare gun and a complete first aid kit for emergencies.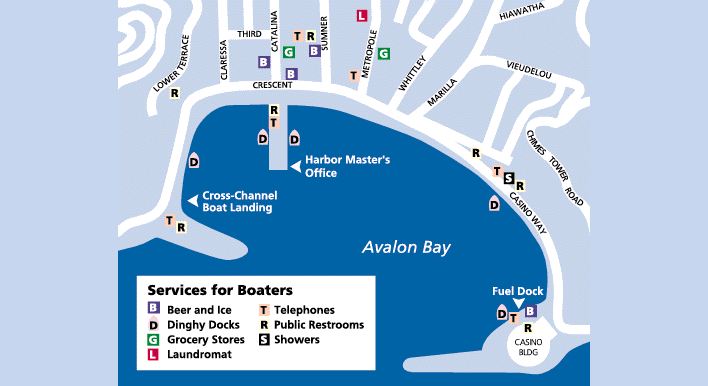 Arriving prepared at Catalina Island by sailboat
The trip over to Catalina Island will likely take most of the day, so preparing for our arrival a dusk is essential. I highly recommend that you bring several charged flashlights in case it's dark when you arrive. Mask and snorkel are essential to have on board as well, in case you have to dunk under to free your propeller shaft from a line, which is impossible if you can see what you are doing. Bring your own dinghy with a small motor (and oars) so you can shuttle yourself into shore. Always bring a patch kit and a pump for your inflatable dinghy.
Navigating the Channel
Be aware that you are traversing one of the most active shipping lanes in the world. Always aim for the stern of large container ships, and watch out for Tug boats towing barges – use you binoculars to aim for the tail end of the tandem. Again- watch your bearing and avoid collision courses with these potential hazards, big ship turn slow, so it's up to you to avoid them.
Stocking up for your Catalina Sailing trip.
Everything is more expensive on Catalina Island, including gas and diesel fuel, so make sure to fill up and bring enough gas to avoid paying inflated prices on the Island. Leave the drugs at home. If you are stopped by the Coast Guard in possession of illegal recreational chemicals, your boat can be seized, a serious buzz-kill. Bring plenty of food and water for a full day trip, and groceries to get you through the weekend if you plan to eat on board and make a short-haul day trip to one of the other Channel Islands.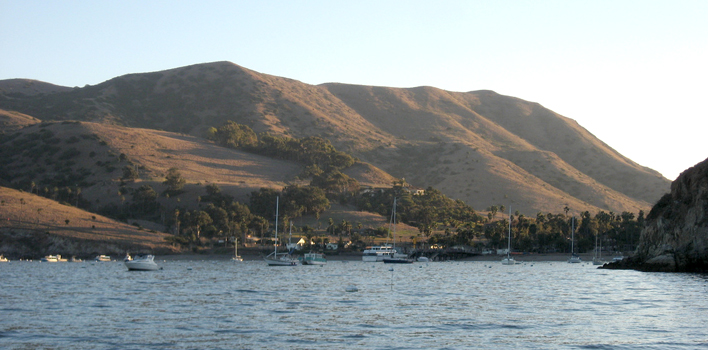 Mooring vs. anchoring your sailboat in Avalon Bayor Two Harbors (above)
Holiday summer weekends get really busy and you may not get a mooring. If you plan to arrive and spend your first night at one of Catalina Islands coves or bays, make sure you contact the appropriate campground management and make reservations. Be prepared to put down your anchor and make sure your crew is capable of raising and lowering it while you pilot. You will at very least need one person to drop anchor while you hit reverse as the fluke hits bottom. It's essential to hook the bottom like hooking a fish, before letting out enough rope to give yourself a safe 5/1 water depth to rope length ratio. If you anchor near other boats, you must use only a single hook so your boat can swing around with the other when the wind shifts. Two anchors is always safest, and when other nearby boats are doing this, you can do the same. Anchoring is free, so you can avoid mooring fees.

If you plan to take a mooring, make sure the mooring is designed for your length of vessel. If you have a 38' foot boat on a max 36' mooring, you may have a nightmare of a time getting free at high tide. Mooring fees are paid at the Harbor Masters office and range from $20–$100 per night. Special rates may apply at different times of year.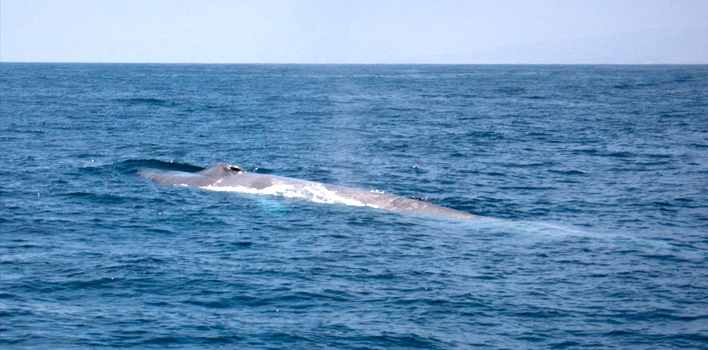 Whale watching and dolphins on your Catalina sailing voyage
Your Catalina Island sailing vacation really begins once you clear the breakwater on leave the California mainland. Expect to see dolphins on the way over, it is common to see pods of 1000 or more and often they will swim right up to your boat to check you out, especially if you are moving a good 5kts or more. My last trip to the Island in the fall of 2008, I was lucky enough to see a blue whale, which was simply awe inspiring, which is a rare treat for many. Spotting whales depends on time of year and migration patterns, but it's common to see them in the channel heading south in the fall/early winter months and north in the spring.