Catalina Flyer
The Catalina Flyer began operating out of Newport Beach in 1988. Costing 3.5 million dollars to build, This 118 foot, 93 ton high-speed catamaran style boat carries 350 event guests in style.
The first deck is completely enclosed with windows for guests to view the beautiful scenery along the California Coast. It has the rest rooms (two woman-one men) on this level and our largest bar. The dance floor and main seating are located on this deck. The second and third floors are accessible by stairs only. The entrance is located on this deck with ramps all the way to the boat from the patio.
There are two stairways leading up to the second deck. The second deck is half open to the outside and half enclosed. The enclosed state room provides additional seating and the smaller second full service bar. The outside area is the location for our buffet serving station.
Leading up to the third deck are two additional stairways. The third deck is completely open and offers the best viewing of the harbor and the breathtaking sunsets over Newport Harbor.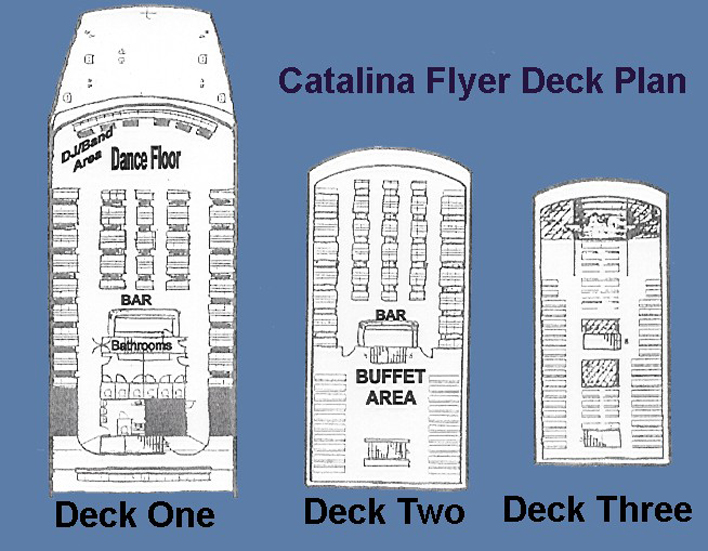 The Catalina Flyer can accommodate groups ranging from 75 to 350 people. The Catalina Flyer, a luxury catamaran, features a beautifully decorated interior, dance floor, and full-service cocktail lounges. Everything you need to host a memorable event with elegance and style.
The Catalina Flyer charter rate is:
$700.00 per hour (Sunday thru Thursday)
$1000.00 per hour (Friday and Saturday)
[two hour minimum.]

Clean-up fee $500.00
The minimum food total is:
$6000.00 on Saturday
$5000.00 Friday and Sunday

Please see menus for per-person cost.
A $2000.00 non refundable deposit is required to confirm your boat charter.

A 50% payment of the estimated balance is due 30 days prior to the event.
Final payment and final count is due 14 days before event.

School events require a damage deposit of $750.00 and 2 uniformed security personal are must be provided. **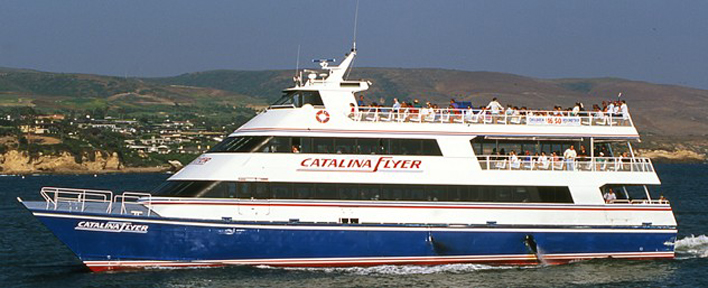 Parking is $8/day in the municipal parking lot so patrons simple take a ticket and pay as they leave the lot. During holidays parking can be more difficult so it is recommended to arrive early.
Guests are advised that there is no smoking on the boat with the exception of the stern of the first deck. Outside beverages are not allowed and cannot be brought on board under any circumstances!
Note: Prices and Departure schedules may have change unexpectedly - please check with the ferry services to confirm details.
See more Catalina Ferry services...