Sailing Catalina Island's Secluded Coves and Bays.
In addition to the ports of Avalon and Two Harbors, Catalina Island offers seemingly endless opportunities for exploration and discovery in and around its many coves and bays. Many of these coves and bays offer excellent anchorage and some have moorings as well. These isolated bays offer privacy and striking views.
Make sure you prepare for your Catalina sailing vacation appropriately with all of the supplies including gas, diesel, food and water, and proper safety and emergencey equipment.

Below is a list of anchorages and moorings around the island for those who love tranquility and raw beauty. Catalina Island Camping at (310) 510-TENT, is a good source of information about outlying coastal areas, including facts about moorings, anchorages, prices, and safety.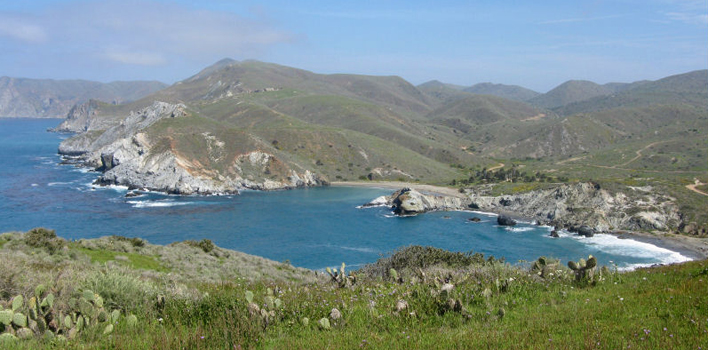 Little Harbor (image above)
One of the Island's most beautiful harbors, with access to hiking trails and camping facilities (call (310) 510-7265) including showers, toilets, fire rings, and piped water. No moorings, but anchorage for 10-15.

Catalina Harbor
Mooring for 96, and anchorage for 235. Continuing into the Isthmus there are toilets, fire pits, and picnic facilities on shore. Camping is not permitted.

Parson's Landing
Space for camping with fire rings, barbecue pits, and toilets. Call (310) 510-7265 for reservations. Close to westend hiking trails. Anchorage for 10 but no moorings.

Emerald Bay
99 moorings and anchorage for 5-10 boats. A beautiful bay with good skin diving nearby.

Howlands
40 moorings.

Big Geiger Cove
Anchorage for 10 with 3 more anchorages and 1 mooring located nearby at Little Geiger Cove.

Cherry Cove
Named for a grove of Catalina cherry trees growing up the canyon. 103 moorings but no anchorages.

Fourth of July
42 moorings; no anchorage. As might be expected its name is a reference to its use as a site for holiday celebrations passed.

Big Fisherman's Cove
Home to USC's Marine Science Center. Facilities here (dock, ramp, and 2 moorings) are for researchers only: do not use them.

Empire Landing
Anchorage for 20. The 2 moorings are private. There is a quarry here on the site of an old Indian one.

Ripper's Cove
Anchorage for 5-10. Good swimming and diving.

Little Gibraltar
Anchorage for 7-10 boats.

Goat Harbor
Anchorage for 5-10 boats.

Buttonshell Beach
Anchorage for 10; 7 moorings.

Hen Rock Cove
Anchorage for 10; 24 moorings. Another good skin diving area.

White's Landing
17 moorings, anchorage for 16. The island's widest sandy beach.

Moonstone Beach
Anchorage for 12; 38 moorings.

Willow Cove
Anchorage for 4.

Toyon
9 moorings; anchorage for 6.

Hamilton Beach
36 moorings. Within view of the Hamilton Cove condominiums. Very close to Avalon.

Descanso Bay
47 moorings. Even closer to Avalon. No beach landings are permitted but there are several dinghy docks nearby.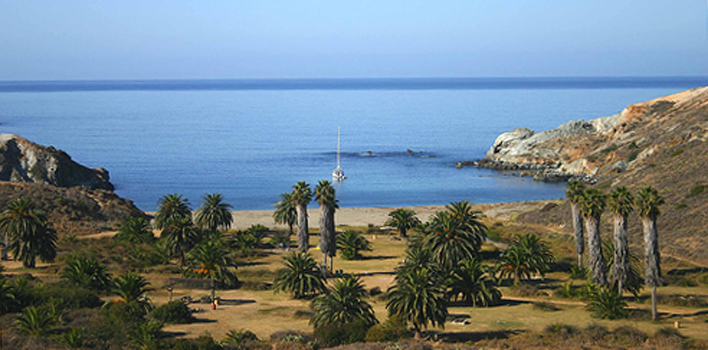 Two Harbors campsites (image above)
Two Harbors administers a number of primitive beach campsites, accessible only by boat. There are no man-made improvements in these coves, so campers will need to bring their own equipment (or rent it from Two Harbors with advance reservations) including porta-potties. Campers also need to remove all that they bring with them. The locations include: Starlight Beach, East Starlight Beach, Paradise Cove, Ripper's Cove, Lava Wall Beach, Cabrillo Beach, Willow Cove, Frog Rock Cove.
For more information on cost and availability call Two Harbors Camping at (800) 785-8425.